César Arredondo honoured in Camaguey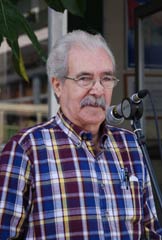 Camagüey, Cuba, Mar 21. – César Arredondo, the most awarded of the Cuban radio announcers added, this Sunday in Camaguey, another prize when received the "La Radio sentido de una vida", distinction, because of his devotion and love to that profession.
The ceremony took place at Plaza de los Trabajadores in the city of Camaguey, where he presented his book "De Becerra a la Rampa. Memorias de un locutor" (From Becerra to La Rampa, memories of a radio annoucer), which according to him, comprehends a great part of his life.
This book has its first presentation this Saturday at the Becerra Community, in Santa Cruz del Sur, where this National Radio Prize Winner was born, César Arredondo, March 15th in 1938.
The opening words were said by the author himself and these words were transmitted live by radio, after the tribute of the Drama Group Niño Moncada.
This turned out to be a timely reencounter with old friends and part of the audience from Camaguey.
Guillermo Pavón Pacheco, vice-president of the Cuban institute of radio and television, Onelio Castillo Corderí, Director of provincial Radio, and Alberto Liberta, renowned writer of the national radio station Radio Progreso attended this encounter. (Redacción digital de Radio Cadena Agramonte).