House Construction and Repair Program a Priority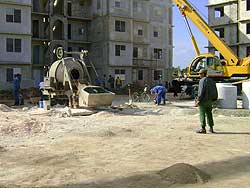 Camaguey, Jan 22. – Investments related to construction and repair of private dwellings will be a focus of attention this year in Camagüey province, for which the government approved a budget of 18 million pesos.
According to data released to the press by the Provincial Direction of Economy and Planning, this figure is bigger that other budgets allocated to other sensitive areas such as Health and Education.
Among the main goals, it is worth noting the culmination-of-work program, the start-and-development program and the urban development program as well as the repair of apartment buildings, particularly at the Lugareño building, located in the historic core of the city.
Recently, the Council of Ministers passed a package of measures which included the legalization of houses, the granting of perpetual ownership of land to those who have lost their roofs as a result of weather event and others.
In addition to the above high-profile measures, it is worth noting the investment program that will be implemented in the province this year. (Juan Mendoza Medina/Radio Cadena Agramonte).