Camping Facilities among the Main Attractions in Camagüey during the Summer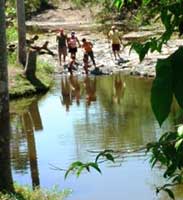 Camagüey, Cuba, Aug 18. – The Empresa de Campismo Popular (Nationwide Network of Camping Facilities Company) is offering the possibility access to seven of its sites, spread all over Camagüey province. A total of 172 cottages are at the disposal of the holidaymakers in Camagüey, who can also enjoy one-day stay in any of the facilities opened to the public.
Las Palmas, Monte Oscuro, Batalla de Saratoga and the Máximo River Scoops, for mentioning some examples; are providing many healthy recreation options, among which we can find board and traditional games, horseback riding and varied gastronomic offerings.
The use of the computer rooms by children and young people, the refurbishing of infrastructure in camping sites like Las Clavellinas, are among the main achievements of the company this summer. ( Gretta Espinosa ClementeThis e-mail address is being protected from spambots. You need JavaScript enabled to view it / Radio Cadena Agramonte).