Cuba Hosts International Forum in Support of Hugo Chavez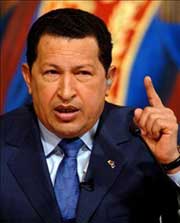 Havana, Cuba, Sep 7.- Cuban civil society organizations, students and foreign residents in the country expressed their support, during a forum in Havana on Thursday, of Venezuelan President Hugo Chavez in his campaign for the upcoming October 7 presidential elections.
Grouped in what is known as the International Coordinating Group in Solidarity with Venezuela and with the ALBA countries and projects (CIS VenALBA), professionals, activists and students from Latin America and Arab countries considered the electoral victory of Chavez a crucial factor to keep boosting regional integration and sovereignty of nations.
Participants at the forum agreed that the presidential elections in Venezuela will expose two opposing options: social inclusion and independence on the one side, and the people's subordination to the oligarchy and US interference on the other.
The gathering, hosted by the Arab Association of Cuba, included remarks by several students, the screening of fragments of a documentary film on the life of Hugo Chavez, and cultural activities.
Venezuelan ambassador to Cuba Edgardo Ramirez thanked the CIS VenALBA group for its solidarity. The organization was founded in Havana by participants of Argentina, Bolivia, Brazil, Colombia, Chile, Spain, Lebanon, Palestine and other countries.
The solidarity platform is also made up of Cuban entities like the Friendship Institute, the Cuban Peace Movement, the Arab Association of Cuba, the UN Cuban Association and the Center for Studies on Jose Marti.
The solidarity with Venezuela forum was attended by the diplomatic corps accredited in Cuba, and by relatives of the five Cuban antiterrorist fighters held in the U.S. since 1998.
Last July, the Sao Paulo Forum called for world solidarity actions in favor of the Bolivarian Revolution, particularly aimed at supporting Hugo Chavez in the upcoming presidential elections. (Radio Cadena Agramonte).