U.S. activist Cindy Sheehan Asks Obama to free the Cuban Five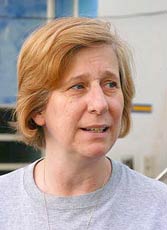 Washington, Aug 2.- U.S. peace activist Cindy Sheehan has sent a letter to President Barack Obama, demanding the release of five Cuban antiterrorist fighters unjustly imprisoned in the northern country.
In the letter, Sheehan requests the U.S.president to free the five Cubans, who entered to United States to supervise the activities of terrorist organizations planning violent actions against the Caribbean island.
'I would like to believe that you would extend the Cuban people and government the right to protect its citizens from acts of terrorism,' states Sheehan.
Your regime has vigorously violated the sovereignty of several countries in the purported quest to "keep America safe." The Cuban government and the Five Heroes did far less, she added.
Sheehan also recalled the aid and protection provided by the government of the United States to real terrorists such as Orlando Bosch and Luis Posada Carriles, while the unjust judicial system of that country condemned the five Cubans to harsh punitive sentences.
Sheehan is a renowned peace activist whose son, Casey Sheehan, a U.S. Army soldier, was killed during the U.S. war against Irak in 2004.
Gerardo Hernandez, Ramon Labanino, Antonio Guerrero, Fernando Gonzalez and Rene Gonzales, known internationally as the "Cuban Five" were jailed in September 1998 for reporting on violent schemes by far-right anti-Cuban groups based in Miami.
They were then convicted in 2001 by a Florida court on alleged espionage charges and given long prison sentences.(Radio Cadena Agramonte)