Haute Cuisine Gains Strength in Camagüey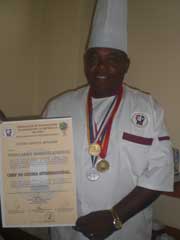 Camagüey, Cuba, Aug 16. – For the first time Camagüey relies on 21 international chefs thanks to ArteChef national project that the Federation of Culinary Associations of the Republic of Cuba has been applying with remarkable results. The category acknowledges the effort, preparation and dedication to the art of cooking and it is a greatest commitment of these chefs with the customers, both Cubans and foreigners.
In the public meeting which took place at the Ignacio Agramonte birth house, the holders of this category along with colleagues and family members agreed with Cuban chef Gilberto Smith Duquesne when said: "Cooking is an art in life and the one who does not love life, will never love cooking".
In addition, certificates were given to a group of cooks of this province after having concluded a professional development course, on whom Teófilo Rodríguez Rodríguez , head of the Culinary Associations of the Republic of Cuba in this province, referred as a "strength for our local cuisine". ( Raysa Mestril GutiérrezThis e-mail address is being protected from spambots. You need JavaScript enabled to view it / Radio Cadena Agramonte).