CELAC, China to Discuss Further Cooperation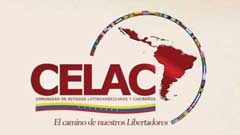 Beijing, Aug 8.- Authorities from China and the Community of Latin American and Caribbean States (CELAC) will discuss in this capital, how to broaden the basis for the development of bilateral ties, including economic cooperation.
Chile's Foreign Minister Alfredo Moreno, Venezuela's Nicolas Maduro, and Cuban Deputy Foreign Minister Rogelio Sierra, representatives of the Troika of the Latin American-Caribbean bloc invited to this event by host Yang Jiechi, attended this meeting.
The meeting will take place shortly after China's Prime Minister Wen Jiabao proposed the creation of a high-level cooperation forum among those regions.
Wen put forward the initiative during a speech at the headquarters of the Economic Commission for Latin America and the Caribbean (CELAC) held in June in Santiago, Chile, during a tour of South American countries.
Wen called for establishing a regular dialogue mechanism with the troika of Foreign Ministers from the CELAC, with Chile as the current president, Cuba as the future president as of January, and Venezuela as the outgoing president of the bloc.
The head of the Chinese government also proposed to hold a first meeting this year.
The Latin American-Caribbean representation will arrive in this capital from New Delhi, where the bloc agreed with Indian authorities to systematize relations through annual meetings and exchanges of top-level visits to increase trade and investment.
Officially created in Caracas in December as part of integration efforts in those regions, the CELACis formed by 33 nations. (Radio Cadena Agramonte ).