Andrés Serrano: Living in Camagüey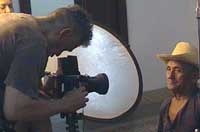 Camagüey, Aug 14. – Those were long working hours. Just right after his arrival from Baracoa at 3:00 am, controversial American photographer Andrés Serrano plunged himself body and soul to his job during 11 hours uninterrupted in the city of Camagüey as a transitory setting.
"I needed to learn another side of Cuba, but outside the capital, a city I visited on June"- he told this reporter. Now Serrano comes back with the aim of going beyond Havana's borders, because he is now working on a catalog bearing the name of Cuba.
His tour has taken him to Trinidad, Santiago de Cuba, Baracoa and now Camagüey. Serrano's starting point in this city was precisely the Alejo Carpentier Art Galey, and it seemed that the tanned faces of country men from the municipalities of Guáimaro and Camagüey were his interest.
"My previous trip to Cuba was in June; then I spent 4 weeks only in Havana. The catalog I'm working on is about Cuba and not only about her capital. That's why I returned for another 15 days. I'll take with me images of the places I've visited, among them pictures of peasants. Here in Camagüey I'm shooting the faces of those men who do the most arduous tasks in countryside."
Andrés Serrano is well known in the field of photography around the globe. He was born on August 15th, 1950, of Honduran and Afro-Cuban origin. He lives in New York City and has displayed his art in several countries, among which are England and France.
Capturing the essence of the Cuban "campesino".
His work conceived using conventional photography techniques –he does not use digital tools- is deemed controversial, because he uses corporal fluids such as blood and human breast milk, among others.
Now Serrano is engaged in this project that brought him to the westernmost island of the Caribbean, his pics will be part of a great book belonging to Caschen, a firm that advertises art.
The passion of this work speaks for itself about his feeling in relation with the island nation, for it satisfies his need to go back to his own roots:
"My mother was born in Key West, but she was raised in Cuba. She did not come back to the United States until 1948 and I was born two years later, in New York. When I was a child I used to hear my mom talk about Cuba and sometimes Camagüey surfaced in the middle of the conversation. It might be some link between her and this province, so I'm making some inquiries to see if this can be possible".
Andrés Serrano says to be satisfied for this new opportunity in visiting Cuba. According to what he told me,the American artist will take an unforgettable memory back home of his stay in Camaguey and claimed:
"I like Cuba a lot and if I had the chance to live in this country for a while I will chose Camagüey". (Yolanda Ferrera Sosa/ Radio Cadena Agramonte).