Sugar Mills in Camagüey Supply Some 14,000 Families with Electricity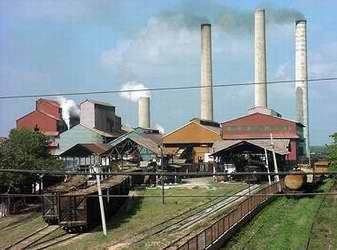 Camagüey, June 18 – The electricity generated by five sugar mills in Camagüey and supplied to the national power grid equals the power consume of some 14,000 houses in one moth, experts consider.
A total of 3,400 Mw/h generated by the sugar mills in this Cuban province using cane pulp as fuel meant a saving of over US$ 486,000, because the country was not forced to buy fuel oil to get this power in its powerhouses.
The Control and Analysis Room belonging to Camagüey Sugar Company reported that as a whole the five sugar canes supplied some 13,400 Mw/h to the national power grid, but most of the energy was used to energize its own facilities, including workshops and the plants.
Sergio Monteagudo, consultant of this company told AIN news agency that the current results are much better than those of 2011, when only three sugar mills got involved in the harvest.
Monteagudo also spoke about the works they have done to improve efficiency in the steam boilers, and other areas to low the levels of humidity in the cane pulp.
Only one sugarcane manufacturing plant could not reach its plan of power generation, because it had to deal with problems in its boilers, said Monteagudo who also applauded what Siboney sugar mill did.
Aliesky González, who works in Siboney, stated that much of the success of this plant was due to some measures taken consisting on eliminating unnecessary lighting, and using appropriate engines for specific tasks. (Radio Cadena Agramonte).