Economic and Commercial Centers in Camagüey Contribute to Preserve the Environment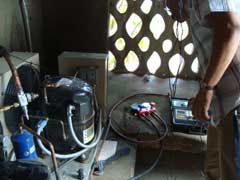 Camagüey, Cuba, Aug 19. – The fact that nearly a dozen of economic and commercial centers in this Cuban province are going to replace, next month, their cooling systems by setting up CFC-free air cooled condensing units has been deemed a remarkable set forward. According to Master in Science Aray Rodríguez, specialist of the Provincial Environment Unit, Camagüey has replaced 14 cooling systems this year, a fact that has helped to eliminate the ozone-depleting substances.
Several facilities which are critical for the community have been benefited with the so-called cold chambers, among them the Marie Curie Oncological Hospital in Camagüey.
Gases such as the R12 and the R 502 have been also replaced by less aggressive chemists, and in September new freezing and refrigeration equipments will be installed in facilities that are vital for the territory, among them the Casino Recreational and Cultural Center and the LABIOFAM Managerial Group.
Provided by the Oficina Técnica del Ozono (OTOZ), the air cooled condensing units will be installed free of charge, and they will guarantee better technological efficiency in the functioning of the equipment and improve the cooling of the products.
Besides, the new systems which are Freon free bring about considerable technical progress, associated to basic elements of the refrigeration system such as filters, oils and thermostats. ( Gretta Espinosa Clemente / Radio Cadena Agramonte).