Construction Materials in Camagüey´s Retail Stores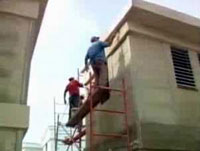 Camagüey, Aug 18.- With the selling of steel bars and grey cement in the retail stores of the Ministry of Domestic Trade, the number of construction materials on sale increases in Camagüey province. Elaine Porro Izquierdo, who heads the non-food products department, in the Provincial Directorate of Trade, told press that each bag of PP 250 cement (42.5 kg) costs 112.00 Cuban pesos, while in bulk is sold at a lower price (2,54/kg).
In an interview given to Adelante newspaper, Ph.D. Noel Iraola Valdéz, who works at the Empresa de Proyectos de Arquitectura e Ingeniería in Camagüey, said that the PP 250 is an ordinary Portland cement which is very suitable to build walls, low-height columns and structural elements capable to bear low weight. In addition, it is used to cast blocks and floor tiles.
The rebar can be purchased in 13 municipalities of this province and in four outlets in the city of Camagüey, prices will range depending on the size and of the reinforcing steel.
Other products will be gradually incorporated to these stores, like toilets and aluminium frames and carpentry. ( Alex López AlmaguerThis e-mail address is being protected from spambots. You need JavaScript enabled to view it / Radio Cadena Agramonte).