Peruvian FM Ratifies Rejection of US Blockade against Cuba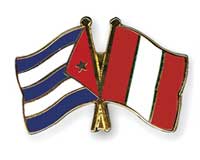 Lima, Aug 18.- Foreign Minister of Peru, Rafael Roncagliolo, reaffirmed his country's friendship bonds with Cuba and its rejection of the US blockade against the Caribbean nation, when decorating the island's outgoing ambassador, Luis Delfin Perez. The Minister's statements were made during a solemn ceremony at the Tagle Tower Palace, headquarters of the Foreign Ministry, where the Cuban diplomat was conferred the Order El Sol del Peru, the highest decoration awarded by the President Ollanta Humala.
Roncagliolo labeled the distinction as well-deserved, given Delfín Perez´s contribution to the strengthening of bilateral relations and cooperation between both Latin American nations. (RHC).