Cuban Organizations Voiced Solidarity with Venezuela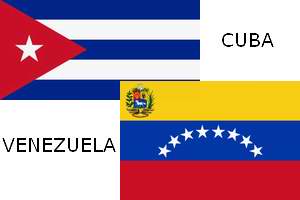 Havana, May 15.- Representatives from mass organizations, diplomatic corps accredited in the island and the Cuban Chapter for the Defense of Humanity today voiced their solidarity with Venezuela.
In a ceremony hosted by the Venezuelan embassy in Havana, peace and solidarity activists gathered as part of the worldwide program that already includes 20 countries.
Attendees expressed their support to President Nicolas Maduro's government and the revolutionary process going on in the country, as they paid tribute to the late leader of the Bolivarian Revolution, President Hugo Chavez.
Speakers at the ceremony agreed on the fact Venezuela has the right to live in peace and rejected the positions that obstruct dialog between authorities and the opposition.
Meanwhile, Luis Montero, representative of the Cuban Chapter for the Defense of Humanity, condemned the actions by extreme right groups that ignore the 18 elections that "chavistas" have won and hide behind "soft coup" strategies.
He added that for the United States is unacceptable that Venezuela can exercise its independence and the social changes going on in the country cannot be tolerated. (Prensa Latina).