Camagüey Works for Preventing Disasters in Homes and Workplaces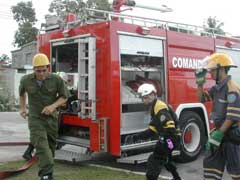 Camagüey, May 14. – In a bid to encourage a culture among the population to prevent and combat disasters in houses and workplaces, Camagüey province holds the Fire Protection Week, a campaign which will last until May 18th nationwide.
According to second lieutenant Yasmani Pérez Feria, acting chief of Command One in this province, they have organized an agenda of activities with the participation Firefighting Brigades, the Civil Defence and the population.
Among the most attractive initiatives, a motorcade of bulldozers, fire engines and armoured vehicles which take part in these types of events, rode the city's main streets and avenues.
Likewise, they will carry out a drill in places of economic importance like in the 540 fuel depot, the Encomed Merchandiser of Drugs and in power generators. (Alex López Almaguer/Radio Cadena Agramonte).