Bill on Oil Prospecting in Cuba Analyzed at the US Congress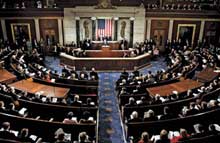 Havana, Cuba, Mar 23.- The US Congress analyzed on Wednesday a bill that would allow US oil companies to drill in waters of Cuba's Exclusive Economic Zone.
On March 5th, Republican legislator for Arizona, Jeff Flake, presented at the House of Representatives the initiative HR 4135, known as the Western Hemisphere Energy Security Act 2012, the Cubadebate Web site reported.
The aim of the proposal is that enterprises from his country "participate in the prospecting and extraction of hydrocarbons in any maritime area adjoining the US Exclusive Economic Zone."
Under this measure, oil companies could export to the Caribbean island the necessary equipment for oil prospecting and extraction, technologies for prevention and cleaning in case of spillage, and well as oil and gas imports.
Likewise, it requests that the employees of such enterprises who travel to Cuba should be backed by a "General License", which means that they wouldn't have to ask for a special permit. (ACN).