Cuba Reaffirms its Willingness to Activate Dialogue with the U.S.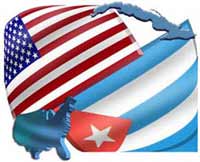 Havana, Cuba, Sep 26.- The director of Department of North America from the Cuban Ministry of Foreign Relations (MINREX), Josefina Vidal, affirmed that Cuba is ready to activate respectful dialogues with the U.S., but without any conditioning from the White House, to sustain civilized relations.
Vidal ratified the willingness of the Cuban government to initiate political dialogues with the U.S. on the bases of reciprocal respect.
The Cuban stance has been published in an interview with an official from The Havana Reporter, an English journal of Prensa Latina news agency, whose first issue circulates in the Caribbean island since Monday, September 26.
The Cuban diplomat told The Havana Reporter that Cuba reaffirms its traditional position to hold respectful dialogue with the U.S. government to solve unsettled problems and that the only requisite is that the meeting should be developed on the bases of equity, reciprocity, and equality.
The first issue of this journal also includes an interview with the president of the Cuban National Assembly of the People's Power, Ricardo Alarcon; an article on U.S. medicine students in Cuba; and information on the current situation of Cuba, Latin America, and the world. (ACN).