More Professional Graduates Return to Paraguay from Cuba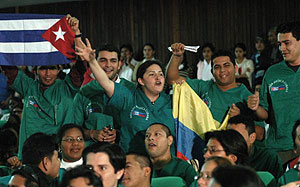 A second group of 50 low-income Paraguayans returned home Wednesday to become professionals, after completing their undergraduate studies at institutions of higher education in Cuba. Of the total graduates, 49 are from the Latin American School of Medecine (ELAM), and Mirna Raquel Riveros, the first graduate of the South American country in the specialty degree in History.
The young people arrived at Silvio Pettirossi international airport around 02:30, local time, and were greeted by friends, family, other scholars, leaders of the Association of Parents of Students in Cuba (APYMECO) and from the Vice Ministry for Youth.
The first group of 43 university students came back on August 10 and by the end of 2011, some 156 young Paraguayans will graduate from the centers of higher education in the Caribbean island, the highest number since the start of this program of solidarity between countries in 2000.
In the first group, apart from the doctors, Fatima Cabrera returned as the first woman with a degree in architecture from the "José Antonio Echevarría" Instituto Superior Politécnico, Havana, and ultimately the best foreign graduate students from 28 countries.
Humberto Muñoz, president of the APYMECO told Prensa Latina that the first female specializing in telecommunications graduated this year too, from the same center of higher studies.
Of the total graduates this year, 143 medical graduates return from the new Medical Training Program.
Muñoz said that for the second year running the government paid for 100 percent of the passage of the fellows for their return, thanks to the efforts of the Ministry of Returnees, the Vice Ministry of Youth, the Binational Itaipu, the Paraguayan Embassy in Havana and APYMECO.
At the end of these graduations in Cuba, he said, more than 450 fellow Paraguayans still remain studying on the island.
The Paraguayan Vice Ministry of Youth is committed to the inclusion of these professionals into the social system of the nation and is confident that they will contribute to national development, practicing in their different communities.
To date, over 700 young people from this South American nation have completed their studies at Cuban universities, mostly from the ELAM. (Granma).