Latin American Motorcyclists Ride for Peace and Solidarity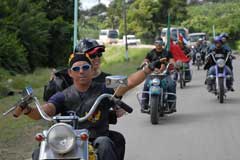 Camaguey, Cuba, Aug 16.- With a message of peace, solidarity and fraternity for the peoples, the members of the Latin American Motorcycle Association (LAMA) are heading to the city of Holguin to celebrate their second national meeting in Cuba.
During the stopover made in the city of Camagüey, Mario Nieves, president and founder of the LAMA, told ACN that the main objective of these meetings is to convey an example of equality, beyond social classes, religions, races or nationalities.
Nieves, a Puerto Rican living in the United States, expressed special interest in showing foreign members traveling in the caravan the truth about Cuba, distorted internationally by the political conflicts existing between the Caribbean island and the US government
The group left Havana on Sunday and has visited some of the nine Cuban chapters of the Association, located since 1999 in the country's capital and in the cities of Pinar del Rio, Matanzas, Jaruco, Cardenas, Santa Clara, Moron, Camagüey and Holguin, with a total of 225 members.
Adolfo Prieto, national representative of the LAMA, pointed out that participants in the meeting, which will end on August 21, will discuss topics of interest for the organization's members, like the implementation of the international regulation calling to discipline and strict respect to the traffic code.
The Latin American Motorcycle Association was founded in 1977 in the US city of Chicago, and currently brings together over 20,000 members from the Americas and Europe, where it has offices in Spain, Germany, Italy and France. (acn)