Raul Castro Attends Cuba-Angola Meeting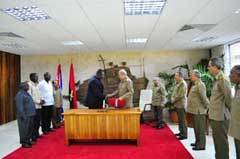 Havana, Aug 8 .- President Raul Castro attended a meeting between Cuban Defense Minister Julio Casas and his counterpart from the People's Republic of Angola, Candido Pereira Dos Santos Van Dunen, in this capital.
Cuban television reported that the meeting was warm and friendly, and the two countries addressed major issues in bilateral cooperation.
Also present at the meeting was Cuba's interior minister, Army Corps General Abelardo Colome Ibarra.
The Angolan defense minister and his delegation have toured places of interest, as part of their visit at the invitation of his Cuban counterpart.
(Prensa Latina)