Young Students in Camagüey to Finish their High School Education in the University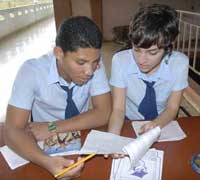 Camagüey, Aug 31. Nearly 80 twelfth-grade students of this central Cuban province should enter the University of Camagüey in courses related to exact sciences, agriculture and animal husbandry.
This move seeks that students get familiar with the Higher Education system, in a bid to reduce the dropout rate in the first year at the university, but also they will receive a suitable preparedness prior doing the entrance exams to this level of education.
In this period, these young students not only complete their school curriculum corresponding to their grade, but they also receive extra subjects depending on the university course they are aspiring to get.
Miriam Nieto, methodologist of this centre, told AIN news agency that before these students get into this Higher Education institution, a vocational orientation process has been done previously, then comes the recruitment process, and last of all a diagnosis depending on the course the students is opting for.
She also noted that during their one school year stay in the university, they will take part in conferences, video screenings, meetings with university graduates and visits to workplaces, where people do activities related to the field of study they are interested in.
Majors in Mathematics, Physicist and Chemist, Veterinary Medicine, and others like engineering in Chemistry, Mechanics and Agronomy are some of the courses these young people can study at the University of Camagüey, told Nieto.
The implementation of this new form of teaching in the 2010-2011 school year made possible that 70 Camagüey-resident students could complete their High School Education and could give also their first steps in fields of knowledge which are of a great importance for the country nowadays. (Radio Cadena Agramonte).