TS Isaac: Discipline in Adopting Prevention Measures Praised in Camagüey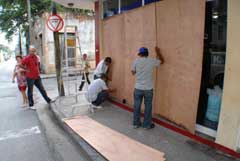 Camagüey, Aug 27.- The Provincial Defence Council in Camagüey praised Sunday the efforts done by civil society organizations to prevent and secure lives and material resources in this Cuban eastern province, threatened by TS Isaac.
Camagüey and the rest of the Cuban eastern provinces are already in the recovery phase, an official note issued by the National Civil Defence announced yesterday, and now this territory gears its efforts towards adopting the measures foreseen for this period.
Although this meteorological phenomenon is moving away from Cuba, accompanying rains and winds still demand of us to be on the alert. For such a reason, defence areas belonging to La Playa and Haiti, in the southern municipality of Santa Cruz del Sur and Playa Florida, in the municipality bearing the same name and Santa Lucia beach resort, in Nuevitas, are still activated because coastal flooding might occur.
In the face of the risk posed by TS Isaac, over 3,000 people were evacuated in Camagüey province, mainly in Nuevitas, Sierra de Cubitas and Santa Cruz del Sur
Officials of the Provincial Defence Council also emphasized that in the current phase it is vital to enhance public health and environmental sanitary measures, above all those related to eradicating the Aedes Aegypti mosquito. (Radio Cadena Agramonte).