Great Cultural Event Kicks off Today in Camagüey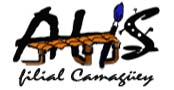 Camagüey, Aug 7.- The 9th edition of the Cruzada Literaria (cultural event featuring book presentations, literary debates and book readings) organized by the Camagüey-based Hermanos Saíz Association (AHS) will be held from August 7-13. The wide array of activities favoring the exchange of several artistic expressions will have literature as the centerpiece of the entire program.
Book presentations, intimate trova gigs, audio-visual screenings, concerts, collective readings and visual art exhibits will tinge the meet attended by 30 guest artists including writers, journalists, researchers and traditional singer-songwriters.
Head of the AHS in Camagüey Yunielkis Naranjo explained that "the event revalues the relevance of literature and its lead actors in the most on-going cultural contexts, which shows the importance of taking these events to country villages, labor groups and penitentiary centers, so that readers can meet the authors they usually read directly from the source".
This great literature and arts event will also get to the municipalities of Nuevitas (about 84 km north-east of Camagüey), Najasa (some 42 km of the city of Camagüey), Santa Cruz del Sur (approximately 82 km south of the city of Camagüey), and Jimaguayú (about 20 km south of Camagüey). Thus, the direct exchange of the public with writers, traditional singer-songwriters and storytellers of national prestige will be possible.
One of the event's organizers, Jhortensia Espineta, said that "only the provinces of Pinar del Río, Holguin and Isla de la Juventud have not confirmed attendance, the rest will have participants in varied artistic expressions. Some of the most outstanding guests are traditional singer-songwriter Juan Carlos Pérez from Havana, writer Juan E. Bernal from Sancti Spíritus, Rolando Reyes from Matanzas and a journalist from Baracoa – the first village founded in Cuba – who is presenting a conference on the traditions of that eastern part of the island nation."
Attending the 9th edition of the Cruzada Literaria, there will also be five Calendar Award winners, granted by the Hermanos Saíz Association early this year, and other guests, among which are heads of the José Martí Cultural Society of several provinces.(Radio Cadena Agramonte)