A Young Cuban Doctor Following in the Footsteps of Bolivar in Carabobo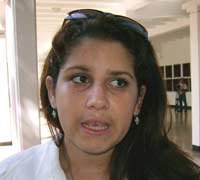 The brotherly bond between Cuba and Venezuela, in their common cause for the independence of Latin America, has had deep roots through history and today they surface in the enchanting place known as Carabobo Battlefield.
History tells us that among those who signed Venezuela's Declaration of Independence in 1811 was Camagüey-born Francisco Xavier Yanes. Besides, another Cuban fearlessly fought in the Battle of Carabobo and was promoted to colonel by Liberator Simon Bolivar who said in the ceremony: "I shall not sheathe my sword until the day Cuba becomes a free nation".
Today, another daughter of Camaguey (Cuba's largest province) is in this land of legends and epic battles; she is the young doctor Yadira González Ávalos, who has a degree in General Comprehensive Medicine.
The Triumphal Arch was opened on June 24, 1921, to commemorate the 100th anniversary of the Battle of Carabobo.
"I arrived in Venezuela in 2010, and I've been in Carabobo Battlefield for over a year. For me it is a great pride to serve in this area which is rich in history."
The Carabobo Battlefield is located in the municipality of El Libertador, some 150 km from Caracas and 30 km southwest of the city of Valencia, which is the capital city of this State.
The place, that occupies an area of 4,250 ha, is characterized by its green expanses, by the great diversity of trees and plants and by the monumental statues which were erected between 1921 and 1936 to immortalize the Battle of Carabobo.
Yadira who is native from the municipality of Florida, in Camagüey, is providing medical care to the soldiers belonging to the Guard of Honor Batallion in Carabobo Battlefield, which is a sacred site for Venezuelans. The Altar to the Homeland, dedicated to Simon Bolivar and those who died in the battle stands in the place, proclaimed National Landmark on July 3rd, 1961.
"Being Cuban means a lot for me, and as a Camagueyan it is a privilege to live and work in the very same place where the independence of this nation was proclaimed.
"It is a very beautiful place, where the living history of Venezuela is safeguarded by all workers who have welcomed us and support us a lot".
But, doctor Yadira not only provide medical assistance to the soldiers belongings to the military unit.
"We have to work very hard in this place from Monday to Saturday. We see the soldiers and conduct medical check-ups to those who join the army determining if they are fit to the military service.
"We also see inhabitants coming from two near villages Valencey and El Chaparral, including many infants and pregnant women. So it is essential to provide specialized antenatal care. In the afternoon, I go out to do some community service, taking medical aid to far-off places and visiting my patients in their own houses".
Altar to the Homeland.
This young doctor is happy for fulfilling the sacred duty which is proletarian internationalism in a place of great historical significance for Venezuela.
"Yes, I'm very happy to be here, to serve the Venezuelan people and do it in this place; it is an honor for me, like Cuban".
In Carabobo Battlefield, where Simon Bolivar won a battle for Venezuela on June 24, 1821 and gave a boost to the Latin American independence; young doctor Yadira González proudly offer health services to its inhabitants.(Radio Cadena Agramonte)